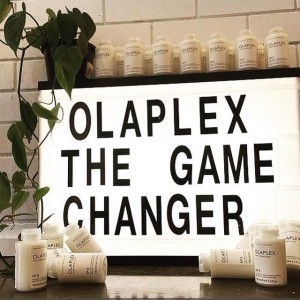 This revolutionary product can give you the hair you've always dreamt about, without the worry of breakage.
Olaplex has the ability to push the boundaries of  colouring and allows hair to go lighter whilst dramatically reducing the amount of damage and breakage.
Olaplex developers Dr. Eric Pressly (PHD in Materials) and Dr. Craig Parker (PHD in Chemistry) identified that hair stylist's biggest challenge was working with broken and damaged hair. They developed the ingredient Olaplex which is a bond multiplier which actually strengthens hair, rather than act as a 'treatment'.
What is the process of Olaplex?
Olaplex is a three step process. 1. Firstly, one of our stylists will put in the no1 Bond Multiplier into the colour. 2. The next step no2, the Bond Perfector, is applied by our hair stylist after rinsing the colour out. This is done before your hair is shampooed. 3. The last step is the Hair Perfector no3. You will be given a 100ml bottle to take home and use it once a week. This step isn't essential, but it's highly recommended to keep your hair healthy, strong and maintaining your new gorgeous colour!